All documented as 27th Division and/or 107th Infantry
Shown larger than actual size to show detail


Above: Victory Medal with 27th Division campaign bars for "YPRES-LYS", "SOMME OFFENSIVE" and "DEFENSIVE SECTOR"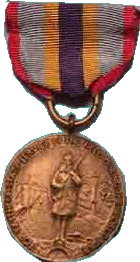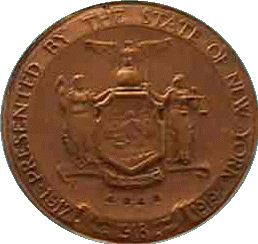 above: N.Y.S. Faithful Service in the Field medal
Awarded to N.Y.S. servicemen who served stateside during the Great War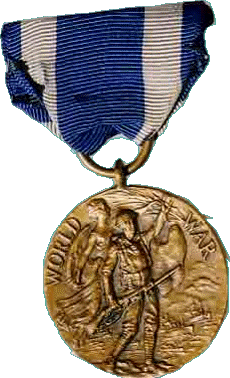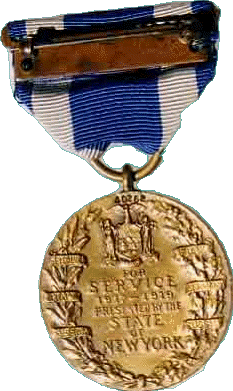 Above: Front and back view of New York State Great War Service Medal awarded to Private 1st Class Samuel Morse Felton Peters, for service with Company I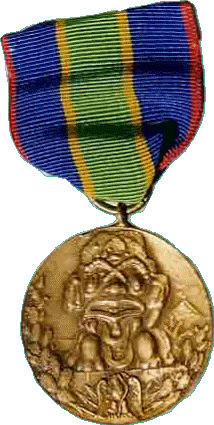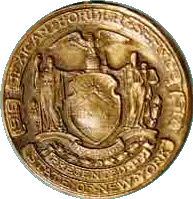 Above: New York State Mexican Border Service Medal awarded to Samuel Peters
Below: U.S. Mexican Border Service Medal awarded to P1c Samuel Morse Felton Peters.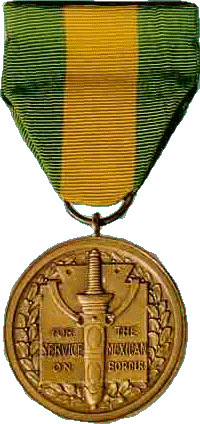 above and below from PAT McGOVERN COLLECTION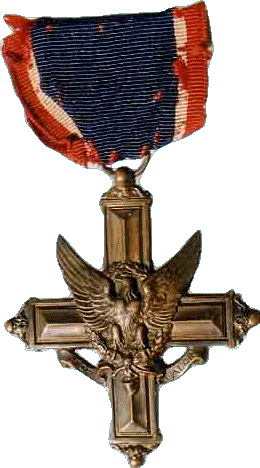 Above: Distinguished Service Cross, numbered 7068 on the edge of the lower arm, attributable to 1st Lieut. William Sargent Hawkins, formerly Co G, for the Selle River Crossing, presented to him on 22 May 1919 at a Veterans of Company G dinner by Maj. Gen. O'Ryan. He was the Adjutant and Liaison Officer of the Second Battalion at the time of the action.

Below: Regimental Long Service Medal to Samuel Morse Felton Peters with 15 Year broach. Broach is numbered 455, the medal itself is numbered 1558 on the reverse. Made by Tiffany. Reverse is hand engraved naming the recipient as 2nd Lieut., Co I. Award was post-war since Peters was not commissioned until October 1918. Peters worked for the Long Island and Pennsylvania RR in civilian life.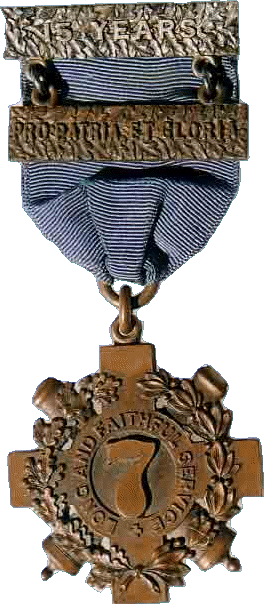 PAT McGOVERN COLLECTION
SILVER STAR AND PURPLE HEART
Richard C. Fulton enlisted in the 7th NY, April 19, 1917 in NYC, reported for duty July 16, 1917. He was mustered in July 25, 1917. He took part in the attack on the Hindenburg Line on September 29th and for his actions on that day he was recommended for a Distinguished Service Cross. It was downgraded to a Silver Star citation (which entitled him to wear a small silver star on ribbon of his victory medal). He was wounded slightly on Oct 12 during the Selle River Crossing. At the time of his enlistment he was living on White Plains Road, Scarsdale. By profession he was a civil engineer and he was 42 years old at the time of his enlistment.

The Silver Star and Purple Heart (shown below) were created and authorized by Congress in 1932 and awarded to those veterans entitled to them. The lapel button shown at the top of the scan is the silver variety awarded to discharged veterans who were wounded in action. A bronze one was awarded to all other veterans (The American Legion adopted this pin as their symbol). None of these shown are Fulton's, but they are typical examples of the first types that he would have been awarded.

In 1925 the WD printed these official certificates and this is Fulton's. Para 26, General Order 2 dated June 3, 1919, GHQ, AEF cites Mechanic Richard C. Fulton, 1212096, Co M, 107th Infantry "For gallantry in action near Le Catelet, France, Sept 29, 1918, in repeatedly bringing in wounded under heavy machine gun fire."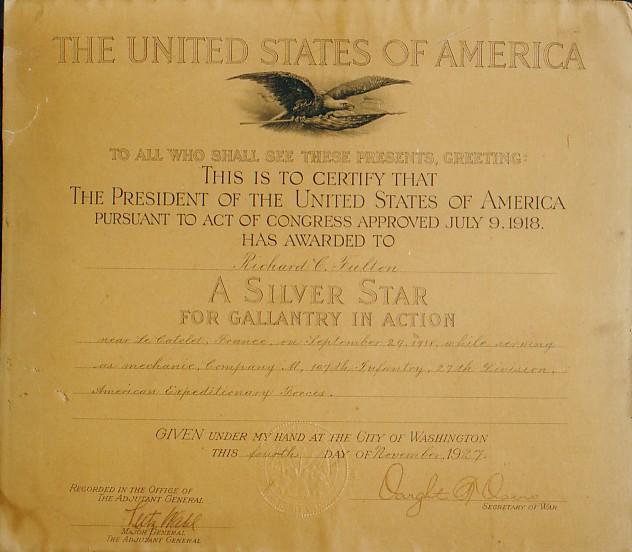 PAT McGOVERN COLLECTION
Medals issued by the U.S. Government are available for re-issue to Veterans, spouse or surviving next of kin with proper documentation. Click HERE for information. I know of no program for the re-issue of state medals.