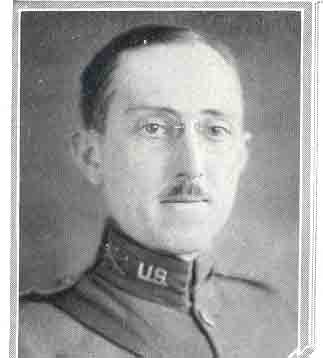 Enlisted Co. "G", 7th N.Y. Infantry, January 14, 1910; Mexican Border service, June 26 through December 2, 1916; Commissioned 2nd Lieutenant, Co. "G" April 24, 1917; 1st. Lieutenant, Co. "D", May 2, 1918; assigned as Battalion Adjutant, August 29, 1918; assigned to Co. "H", September 2, 1918; wounded in actionwounded in action, St. Souplet, October 18, 1918; awarded Distinguished Service Cross; awarded Croix de Guerre

In civilian life William Hawkins practiced law and lived in Flushing, N.Y.

CITATION

"For extraordinary heroism in action near St. Souplet, France, October 17-18, 1918. Acting as liaison officer during the forcing of la Selle River, Lieut. Hawkins was severely wounded by an exploding shell. Undeterred by the weakened condition to which his wound reduced him, he bravely continued on, working untiringly under heavy shell and machine gun fire for two days until the advance of his battalion was checked."