The standard service revolver issued in the British Army during the Great War was the WEBLEY MARK VI. Adopted in May of 1915, over 300,000 of these revolvers were made by the firm of Webley & Scott at Birmingham during the war. It was a "top break" revolver, operated in single or double action and fired a caliber .455 round with a muzzle velocity of 620 feet per second. It weighed in at 2.37 pounds and had a 6 inch barrel with an overall length of 11.25 inches.
Although I can find no specific documentation of its issue to members of the 27th Division it is reasonable to assume that it was. Sidearms were issued to officers, machinegunners, signalmen, hand bombers and other troops for whom carrying a rifle might prove impractical in the performance of their duties.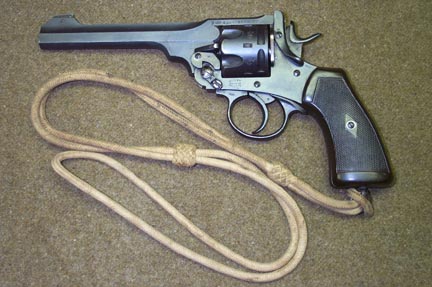 This example is dated 1916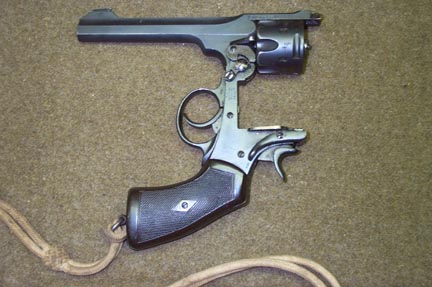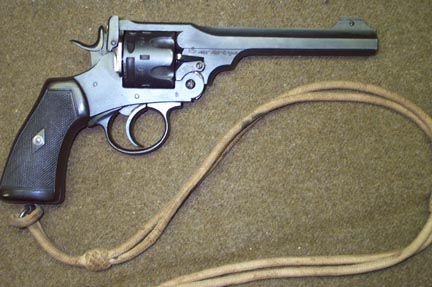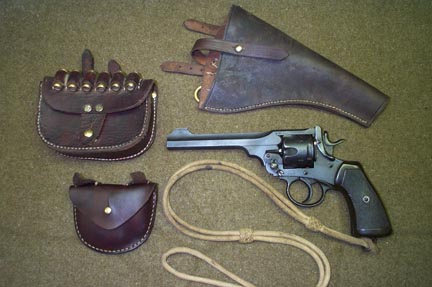 Webley Mark VI revolver with lanyard, holster and two different sized cartridge pouches. Holster and cartridge pouches are reproductions.

A great number of interesting, and sometimes impractical items, were available for private purchase during the Great War. One such items is the bayonet for the Webley MK VI. It would likely have been carried by officers only. It's a heavy item and throws off the balance and therefore the accuracy of the revolver. This was not an issue item.