Click on thumbs for larger view. In newer versions of IE hold cursor over resulting image and click on the "enlarge" icon that will appear in lower righthand corner to view image in it's original size.


ANTONIO MATTIACCIO
Private, 2nd Company, 1st Bn., 151st. Depot Brigade (2/22-3/16/1918)
Hq. Company, 308th Infantry (3/16-4/1/1918)
"I" Company, 308th Infantry, 77th. DIVISION A.E.F.
Enlisted or inducted at: Cohoes, NY, February, 22, 1918
Discharged at: Camp Upton, NY, May 9, 1919

Antonio Mattiaccio is typical of the many immigrants that came to this country for a better life and believed strongly enough in the cause of freedom that they were willing to fight and die for their adopted country. Born in Acquaviva Collecroce, Italy in 1893 he came to this country in 1910 and settled in Cohoes, NY. Antonio was drafted and sent to Camp Devens, Massachusetts for training. A large number of men from Camp Devens were sent to Camp Upton, NY to fill out the numbers of the 77th Division, which was preparing for movement overseas in late March, 1918. Antonio was assigned to Company "I", 308th Infantry. As part of the 308th Infantry he participated in the Meuse- Argonne and Oise- Aisne Campaigns and was wounded in action on August 22, 1918.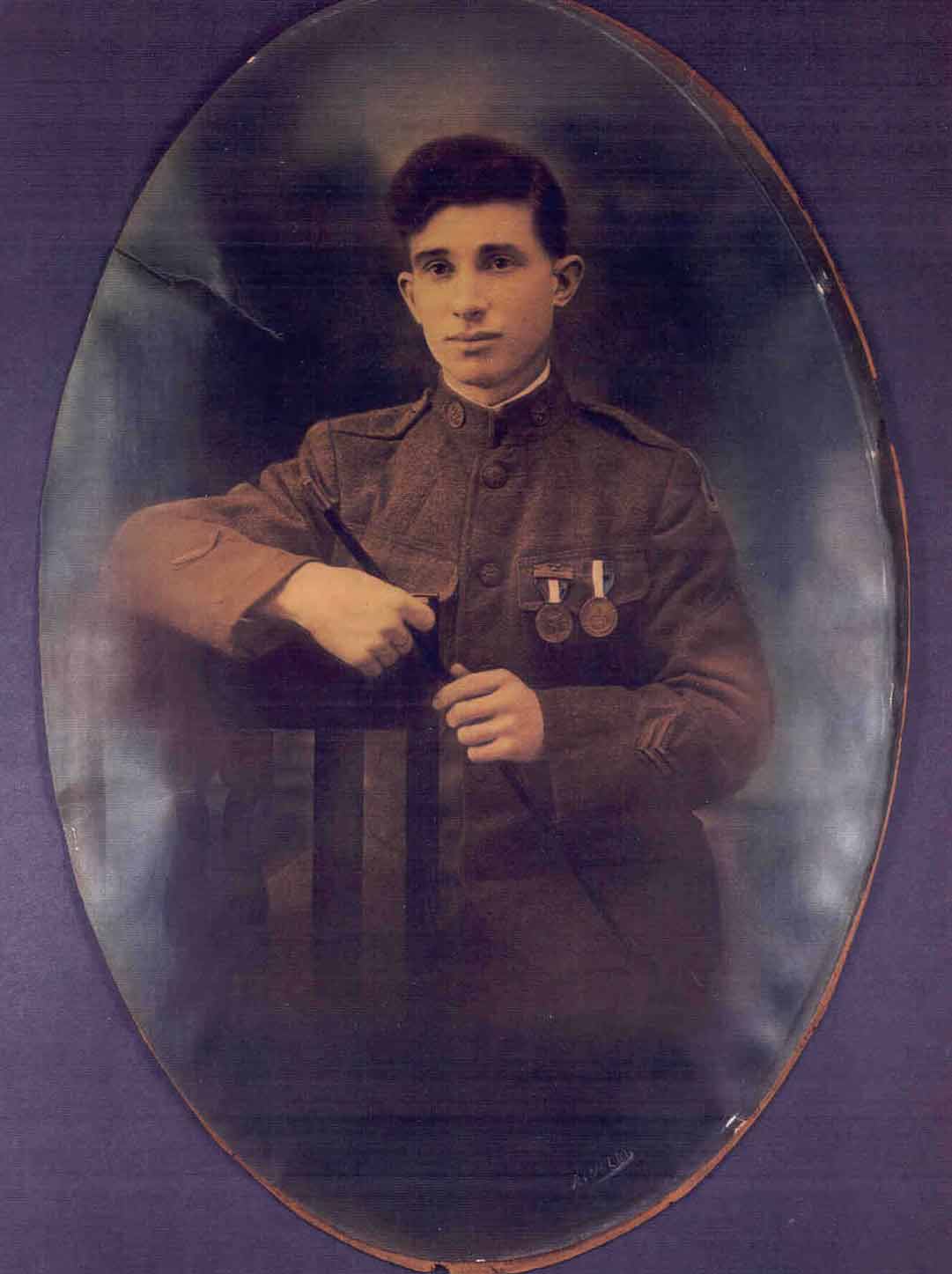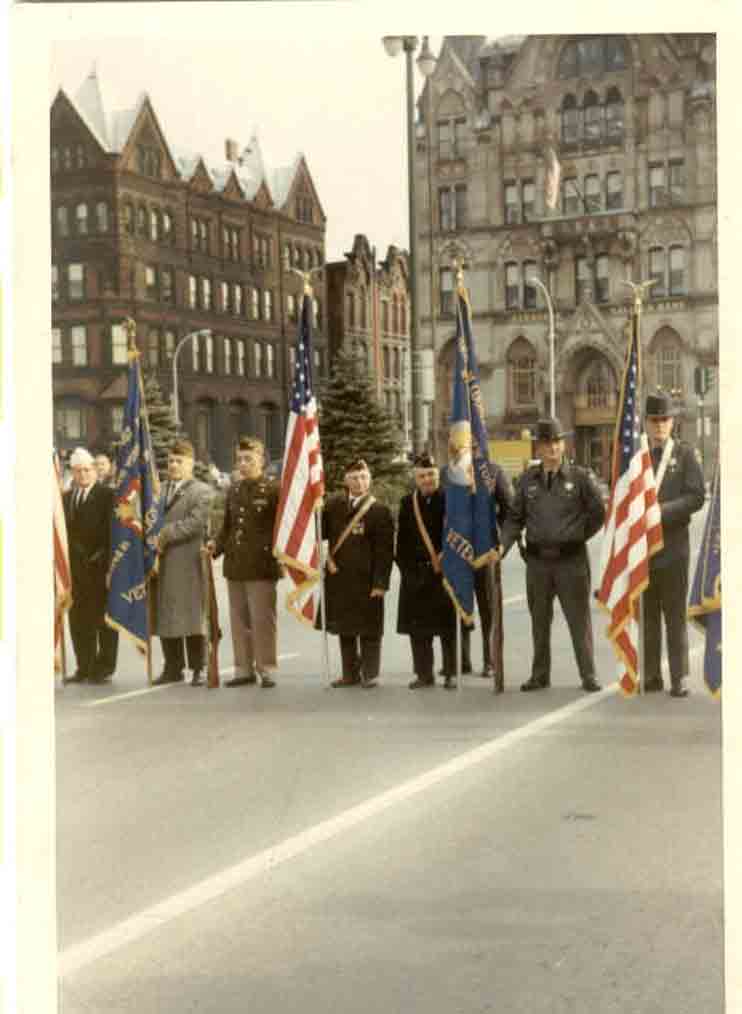 Left: Antonio proudly wearing the uniform of an American Soldier
Right: Veteran's Day, 1965, Syracuse, N.Y. Antonio is center, holding the American Flag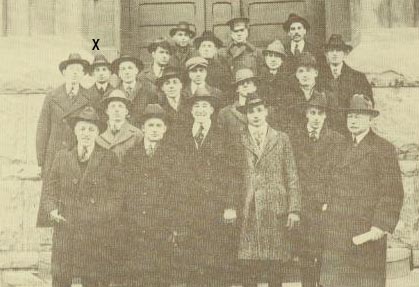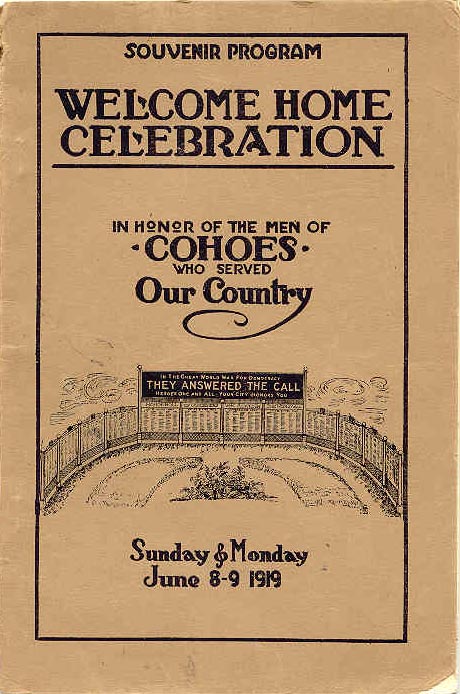 Left: Cohoes N.Y. contingent at Camp Devens, Mass, Feb. 22, 1918. Antonio is directly under the "X"
Right:Cohoes homecoming booklet featuring the previous picture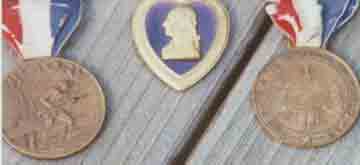 The medal on the left is a Victory medal awarded by the City of Cohoes. On the right is a Great War Service Medal awarded by Albany County, N.Y.. The Purple Heart was awarded in 1932 for wound received in WWI. The Cohoes and Albany County awards are clearly seen in the photo of Antonio , above, left.
Photos courtesy of Michael J. Mattiaccio, grandson
---


GEORGE ALVIN GESCHARDT
serial# 1708797
Corporal, 308th Infantry, 77th. DIVISION A.E.F.
Enlisted or inducted: 21 September 1917
"F" Company HQ, 9/21 - 9/25/17
"F" Company, 9/25/17 - 8/27/18
Stars & Stripes, 8/27 - 12/1/18
1st Censor and Press Co., 12/1/18 - 5/9/19
1st. Replacement Co., 5/9 - 5/12/19
1st Special Casual Co., 5/12 - 6/24/19
Served in France: 4/6/18 - 6/24/19
Defensive Sector (Lorraine) 6/2 - 8/2/18
Vesle- Aisne Offensive, 8/11 - 8/28/18

George Geschardt, Camp Upton, NY, 1917

Camp Upton, NY 1917


with friend, Camp Upton


George Gerschardt, Camp Upton


Second from right, second row. Camp Upton


Promotion Certificate


In Paris with Captured German Gun

Paris, 1918 or 1919


Paris, captured German A7V


Paris, more captured artillery

Great assignment had it's perks


George Geschardt, studio portrait, Paris


George Geschardt, studio portrait, Paris


Company "F" in France, 1918


Honorable Discharge
Photos courtesy grandson
---

EDWIN DAYTON ELL
PRIVATE, QUARTERMASTER CORPS
A.E.F.
Enlisted or Inducted at: Patchogue, NY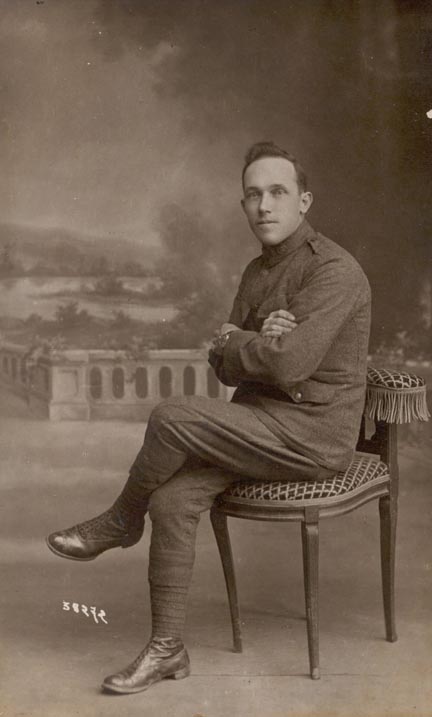 Photo courtesy of Mike Munford, grandson
---

EARL M. YOUNG
PRIVATE, HEADQUARTERS CO. 110th INFANTRY
28th DIVISION, A.E.F.
Enlisted or Inducted at: Salladasburg PA.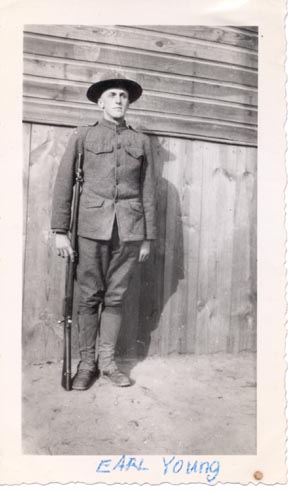 Note the Krag in the above photo

Private Young enlisted in H Company, 314th Infantry, 79th Division (service # 1783101) and trained at Camp Meade, Maryland. He was later transfered to Hq. Co., 110th Infantry, 28th Division. Earl Young was killed on July 30, 1918 by a direct hit from a German shell while carrying a serverely wounded officer, Lt. Perine, on a litter. On the other end of the litter was Mechanic Charles McFarland ( service #1239111). Lt. Perine was also killed by the shell and McFarland was badly wounded but survived. Young is buried in Plot B, Row 15, Grave 31 at the Oise-Aisne American Cemetery, Fere-en-Tardenois, France.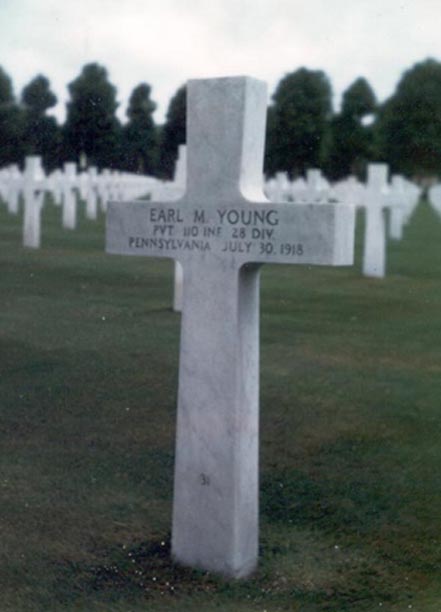 Photo and information courtesy of Earl Heyler, cousin
---

JEAN-PIERRE ("JIM") BIERCHEN
PRIVATE, K COMPANY, 325th INFANTRY
82nd "ALL AMERICAN" DIVISION, A.E.F.
Born: 24 June, 1890 in Luxembourg
Enlisted or Inducted: probably Chicago, Ill.
Died: 27 July, 1971 at Happy Valley Oregon
Buried at: Willamette National Cemetery Portland, Multnomah County, Oregon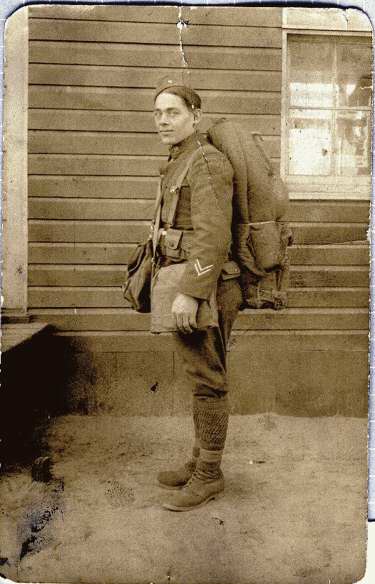 Photo and Information courtesy of Jim Heckenbach, Great Nephew
---
---

JOSEPH A. LEVANOVITCH
PRIVATE, 109th INFANTRY
28th DIVISION, A.E.F.
Enlisted or Inducted at: OLYPHANT PA.
Killed in action: 16 July 1918
Buried: Oise-Aisne American Cemetery, plot A, row 10, grave 22
Photo and Information courtesy of Casey Osgood, great nephew
---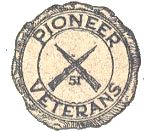 GORDON VAN KLEECK
PRIVATE, F COMPANY, 51st PIONEER INFANTRY
A.E.F.
Enlisted: Kingston, N.Y.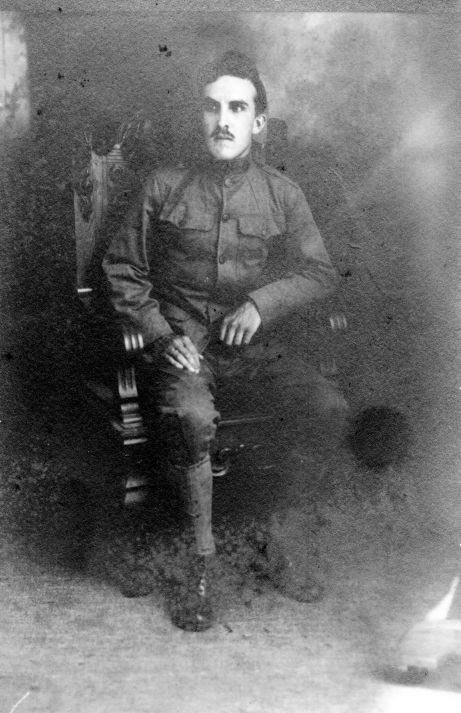 Visit the Van Kleeck Website for several Camp Wadsworth photos and Gordon Van Kleeck's wartime journal
---


ABE SCHWARTZ
CORPORAL, U.S.M.C.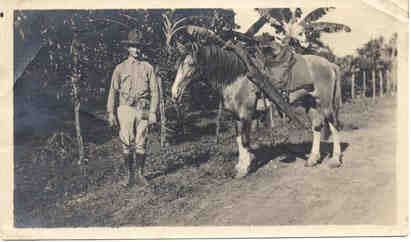 Cpl. Schwartz with Papoose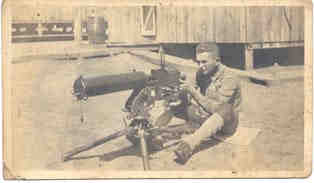 Cpl. Schwartz with Browning MG
One of the advantages of owning the website is that I can allow myself to break the rules on occasion. The above pictures are of my uncle, Abe Schwartz. Uncle Abe was a "Horse Marine" and served in China and Haiti in the 1920's.