VETERANS OF THE GREAT WAR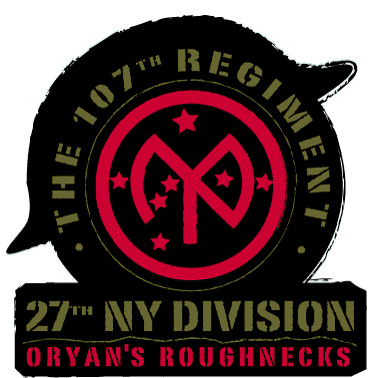 THIS PAGE IS DEDICATED TO MY GRANDFATHERS, MEYER FELDBIN AND PAUL R. HOFFMAN, AND ALL THOSE WHO SERVED THEIR COUNTRY DURING THE GREAT WAR.
I invite all visitors to this site to submit photographs of their family members, family friends or any identified veteran who served in the Great War for inclusion on these pages. Association with the 27th Division is not necessary. Submissions should include the veteran's name, rank, unit and any other information you would like included.
CLICK ON THUMBNAIL FOR LARGER IMAGE
---

MEYER FELDBIN
PRIVATE, COMPANY B, 309th INFANTRY
78th DIVISION A.E.F.
Enlisted or Inducted at: NYC

Camp Dix, April 1918

Co. "B", 309th Inf.


Rifle squad


Paris leave


Pals

Photos: Feldbin Collection
Courtesy of Albert Feldbin, son
---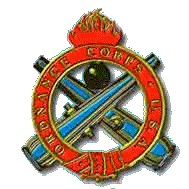 PAUL R. HOFFMAN
MACHINIST
WATERVLIET ARSENAL
REFURBISHING A 16 INCH GUN AT WATERVLIET ARSENAL
Photos: Feldbin Collection
Courtesy of Lois Feldbin, daughter
---

GEORGE A. MORRICE
PRIVATE, 102nd FIELD SIGNAL BN.
27th DIVISION, A.E.F.
Enlisted or Inducted at: Brooklyn, NY

In uniform

First assignment, 71st NY


Visitors in camp


Family


Pals from 102FS Bn.


Post war
The complete diary of George A. Morrice can be linked to from the home page.
Photos and diary courtesy of William Baier, nephew
---


FRANCIS H. DOANE Jr.
SERGEANT, C COMPANY, 107th INFANTRY
27th DIVISION A.E.F.

Postcard, Camp Wadsworth

Sgt Greene...


K.P.


Bobby Duane

Four from 4th squad


Doane and Duane


Francis H. Doane

Members of 4th Squad


Squad washstand
Sergeant Doane was a Lewis Gunner with C Company, 107th Infantry. All the above pictures were taken during training at Camp Wadsworth, S.C.. Captions (hold cursor over thumbnail) are Sgt. Doane's from back of original photos. Sergeant Doane was wounded on September 29 and cited in orders for his actions that day.
Photos courtesy of Colin Doane, son
---


KENNETH C. ROBINSON
1st NY Ambulance Company, NYNG
108th Ambulance Company, 102nd Sanitary Train, 27th DIVISION A.E.F.
Enlisted: Binghamton, NY Jan 31, 1916
Pvt. 1cl, July 3/16; Corp, Oct 1/17; Sgt, May 1/18; Pvt. Nov 15/18
Served overseas June 30/18 to March 11/19.
Discharged Apr 4/19
Unfortunately none of the pictures below were dated or captioned. The first one is obviously on the Mexican border and the baseball uniform picture is most likely at Camp Wadsworth.

Ken Robinson, 1st NY Ambulance Company, 1916

Patrolman, Binghamton, NY Police Department, 1926


Ken Robinson on the Mexican Border

Robinson, possibly border or Camp Wadsworth


Ken in baseball uniform, Camp Wadsworth


1st N.Y Ambulance Company souvenir, Camp Wadsworth
FELDBIN COLLECTION


Robinson, on left, with friend. Probably at Camp Wadsworth

Robinson, center, with 2 friends. Probably Camp Wadsworth


Company Street, 108th Ambulance Company
Photos courtesy of Ken Potter, grandson
---


J. ALSON SHANTZ
ENLISTED: Rochester, N.Y., TROOP H, 1st NEW YORK CAVALRY, April, 1912
1st Lieutenant, 1st N.Y. Cavalry, September 13, 1915
Captain, 1st N.Y. Cavalry, April 10, 1917
Commanding Officer, Company C, 102nd AMMUNITION TRAIN, November, 1917
27TH DIVISION, A.E.F.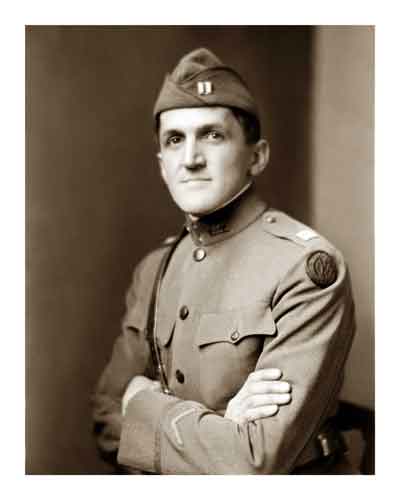 Click HERE to view the Shantz photo collection and biography
Photographs courtesy of Frederick F. Shantz (grandson) and the Family of Alson Shantz
---


ARTHUR CURRIE TUCKER II
ENLISTED: 7TH REGIMENT, NGNY 9 MAY, 1917
SERGEANT, L COMPANY, 107th INFANTRY
27TH DIVISION, A.E.F.
&
GEORGE CLARENCE TUCKER
ENLISTED: 7TH REGIMENT, NGNY
107TH INFANTRY, CAMP WADSWORTH
102ND FIELD SIGNAL BN., FRANCE
On the left is Arthur Currie Tucker II, born in Nyack, NY on 19 February 1893, the son of Arthur Currie Tucker and Estelle Chappell. When he enlisted in the 7th Regiment NGNY on 9 May 1917 he listed his occupation as real estate agent. He was honorably discharged from the National Guard as a private 1st class on 5 August 1917 when the NGNY was drafted into federal service. Arthur was assigned to Company L of the newly designated 107th infantry. During training at Camp Wadsworth, SC he obtained leave and returned home to Nyack, NY. There he married May Helmer, the girl who lived next door, on 8 December 1917. He returned to Wadsworth where he was promoted to Corporal on 1 March 1918

After training in South Carolina Arthur was shipped to Brest, France with his unit on the USS Susquehanna. More training was undertaken in France before Company L took defensive positions with the British army along the East Poperinghe Line. There they were under heavy fire from German positions on Mont Kemmel. By August 12th the regiment had moved to forward positions near Dickebush Lake. After a brief apprenticeship with the veteran British troops who had been holding the trenches in that area, Company L was on its own. They repulsed three small raids and one large one during their eleven day stint in the Dickebush trenches at a cost of nine killed and thirty-one wounded.

The company withdrew behind the lines for a brief rest and more training. A system of trenches outside of the village of Beauquesne were used to practice offensive tactics and how to coordinate efforts with heavy tanks. It was during this time that Corporal Arthur Tucker and Lt. Allen Reagan were sent off to a specialty school. While they were gone Company L participated in the attack on the Hindenburg Line September 29th. This all out effort to dislodge the Germans from their last stronghold cost Company L dearly. "Having gone over the top with just 140 men, the company came out of the line with but...22 men unharmed." [Harry T. Mitchell, Company L, 107th Infantry, 54th Infantry Brigade, 27th Division AEF]

Lt. Reagan and Arthur Tucker rejoined the company in early October. Meanwhile, back in New York City, Arthur's wife had given birth to a son, Arthur Currie Tucker III, on 5 October. After a brief rest the company helped chase the retreating German army. On October 10th Arthur was promoted to Sergeant. On October 17th the Allies caught up with the Germans at St. Souplet. Company L was in the sixth wave of attack during two assaults and was then moved to a position in the front line. They were relieved by a company of the 108th Infantry and hiked to the rear for a substantial rest. By the 25th of October the company had settled in at the town of Glisy and were there when word came of the armistice on November 11th. At the end of November the company moved by train to Connerre where they turned in their English ordnance and were reoutfitted with American supplies. A combination of drills, baseball and delousing passed the time until the outfit was taken by train to Brest. There, after several days at hard labor digging drainage ditches under the eagle eyes of the M.P.s, the company boarded the Dutch passenger ship Nieuw Amsterdam.

On March 9th they arrived in New York harbor and stayed a short time at Camp Merritt. Company L participated in the memorable parade up Fifth Avenue that welcomed the 27th Division home. On 2 April 1919 Sergeant Arthur C. Tucker was discharged from the U. S. Army. He was remembered by Harry T. Mitchell: "Quaint and amusing stories of New England life were "Tuck's" specialty. ...While helping the other lads slap old Jerry back in the vicinity of St. Souplet "Tuck" was chosen to go to an O. T. S., but the war ended too soon for him to get a commission. It was too bad, that, for "Tuck" certainly had a commanding voice just suitable for a 2nd lieutenant."

Arthur fathered a daughter two years later and, after the death of his first wife, married Dorothy Perry of Nyack, NY. He died in Nyack 14 December 1945. His only son joined the regiment, then designated the 207th C. A., on 14 January 1941. He was killed in a German raid on 2 December 1943 in Bari, Italy.

The fellow on the right is George Clarence Tucker, Arthur's brother. He was born in Nyack, NY on 28 February 1894. He joined the 7th Regiment NGNY and was in Wadsworth with the 107th. According to Harry T. Mitchell he was transferred to the 102nd Signal Corps before the 107th embarked for France. George Clarence survived the war, married Josephine Robider in 1924 and died 13 February 1963.
Photo courtesy of Karen Wolzanski, grandaughter of Arthur C. Tucker
---

THE REAGAN FAMILY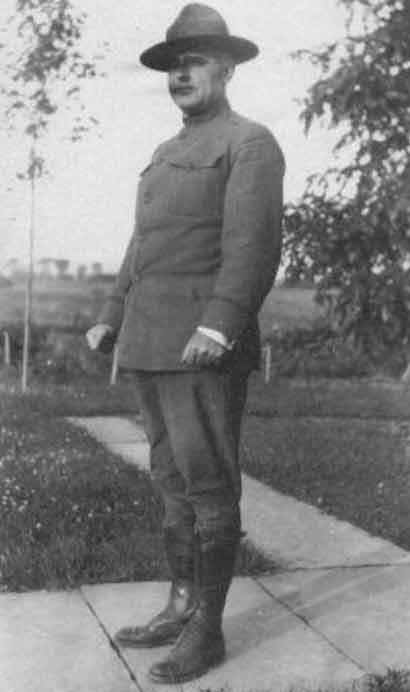 MAJOR ALLAN L. REAGAN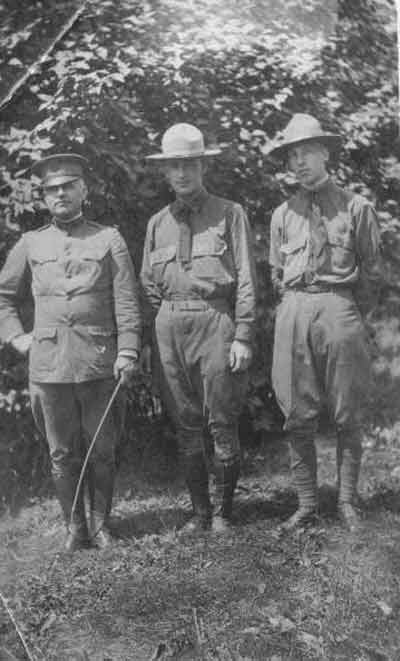 Major Allan L. Reagan, 1Lt. Allan F. Reagan and Pvt. (later Corporal) Frederick Lawrence Reagan
Major Allan L. Reagan was a career officer and served in several positions on General O'Ryan's staff in both the 6th Division on the Mexican Border and the 27th Division in the AEF. He remained in the service after the war, retiring as a Colonel. Both his sons served in the A.E.F.

Allan F. Reagan enlisted on June 8, 1916 in the 2nd Infantry, N.G.N.Y. and served on the Mexican border. He was commissioned a 2nd. Lieutenant on May 2, 1917 at which time he was assigned to the 47th Infantry, NGNY. He was assigned to Company L, 107th Infantry on November 21, 1917. Lt. Reagan was cited in orders "for gallantry, courage and success in resisting an enemy attack on his platoon in the Dickebusch Lake Line, Belgium, August 1918" and promoted to 1st Lt. on September 14, 1918.
( He is the Lt. Reagan mentioned in the previous entry for Arthur Tucker.)

Frederick Lawrence Reagan was a Corporal in Company A of the 102nd Field Signal Bn. of the 27th Division and served for several years after the war as the Secretary-Treasurer of the 27th Division Association.

More photos and documents on the Reagan family will be posted in the future courtesy of Allan L. Reagan, grandson of Lt. Reagan.

Information on Frederick L. Reagan courtesy of his daughter, Beatrice Rohrmeier

A NOTE ON THE UNIFORMS SHOW IN THE REAGAN PHOTO ABOVE

The black neckties worn by Lieutenant and Private Reagan were authorized for stateside wear only. It was not worn at all with the service blouse because of the stand-up collar. Major Reagan would have been issued a Sam Browne belt when overseas. Lt. Reagan would have worn one also when in full uniform. The Sam Browne belt was universally recognized by all the allied troops as the symbol of an officer.

27th DIVISION BURIALS IN BELGIUM AND FRANCE