Worn by enlisted men on the collar of the service coat these disks were made of bronze or brass. The right collar disk bore U.S. (or state markings for NG troops) as well as variations for National Guard or National Army troops. The left collar disk showed the branch of service. Disks often had Regimental and Company designations. Disks were also worn on the overseas cap.
Disks were finished either in black or dark brown. The variation in coloration of the disks shown below is due to worn finishes and/or different lighting when photographed.









27th Division Regimental disks
Disks are 1" diameter




Three variations of N.Y. disks



7th Regiment Collar Disks

left: pre-war          right: post-war
CLOSE-UP OF DISK SHOWING "MICRO-DOT" PATTERN OF BACKGROUND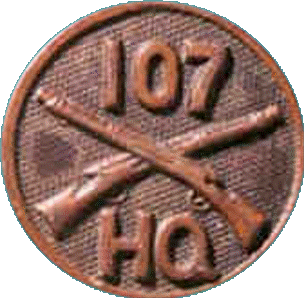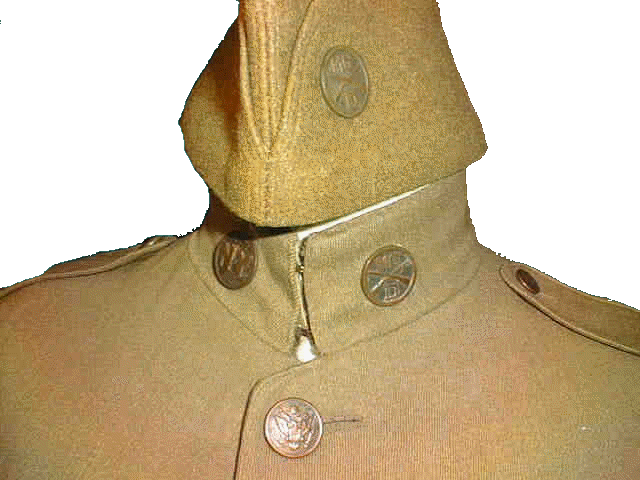 Collar detail showing placement of disks
OFFICER'S COLLAR DEVICES
          
Left: "U.S." device with "N.G." indicating that the wearer was a member of an activated National Guard unit
Center: Crossed rifles denoting an infantry officer, in this case with the Machinegun Company of the 107th Infantry (size: 1½" x ¾")
Right:"U.S." device with "N.Y." for NGNY officers (actual size)
Below: 7th Regiment, NGNY Officer's collar device (actual size)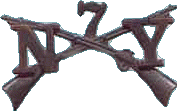 IDENTIFICATION DISKS
Commonly called "dog tags" these disks were worn by every soldier as identification. Early examples such as the one shown here had the rank and organization of the soldier stamped on them as well as the soldier's name and service number. This additional information was either scratched off or stamped over with "x" when soldiers went up to the front. Later tags eliminated this extra information. The first three numbers of the 7 digit service number generally indicated the soldiers unit. For example, on the pair shown the "121" indicated the 107th Infantry.
  

MARKSMANSHIP BADGES
The badges shown here are of the type issued to National Guard troops. They are in brass or bronze. Regular Army badges were issued in silver.


National Guard "MARKSMAN" badge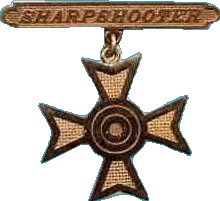 Sharpshooter badge named to member of 7th Regiment, NGNY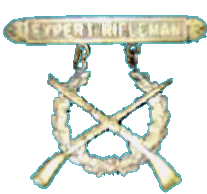 Above: Expert rifleman's badge with qualification year bar
   
 Two Tiffany marked marksmanship badges awarded to NGNY troops
Left: 4 Year Award     Right: 5 Year Award

OVERSEAS AND WOUND STRIPES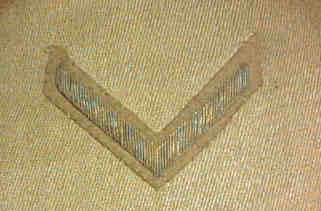 When worn on the left sleeve of the service blouse each stripe indicated 6 months of overseas service. When worn on the right sleeve each stripe indicated a wound recieved in action. The Purple Heart was not authorized until 1932 at which time it was issued to qualified Great War veterans. Both the overseas and wound stripes were worn 4" above the cuff.

INSIGNIA OF RANK

General's Star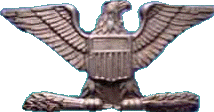 Colonel's Eagle
                    

Left: Lt Colonel, plated bronze (Hallmarked "Bailey, Banks & Biddle")
Center left: Major, gold washed or plated
center right: Captains bars
right: Lieutenant's bar (gold- 2nd LT; silver 1st LT)

NOTES ON OFFICER'S RANK INSIGNIA



Officer's rank insignia can be found in silver plated base metal (gold washed or plated for 2nd Lt. and Major) and a more expensive type in solid sterling silver. The diagonal hatching on the Lieutenant's and Captain's bars are distinctive of Great War dated insignia. They also had a heavier, dome shaped cross section (sometimes called "coffin lids") than later styles. The eagles in a set of Colonel's rank insignia face in opposite directions so that the eagle will alway face forward. Colonel's and General's insignia shown slightly larger than actual size.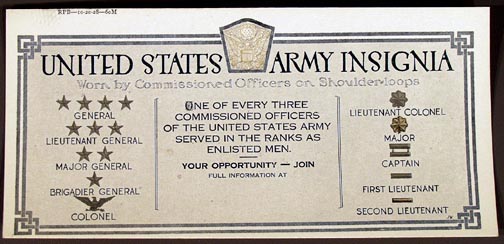 Period chart showing insignia of rank
---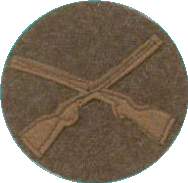 Private First Class Rank Insignia
  

From left to Right: Corporal, Sergeant and First Sergeant
Insignia of rank for enlisted men were worn on the right sleeve only.
(Approx. 20% smaller than actual size)